Rtbf pro, a new
website for the pro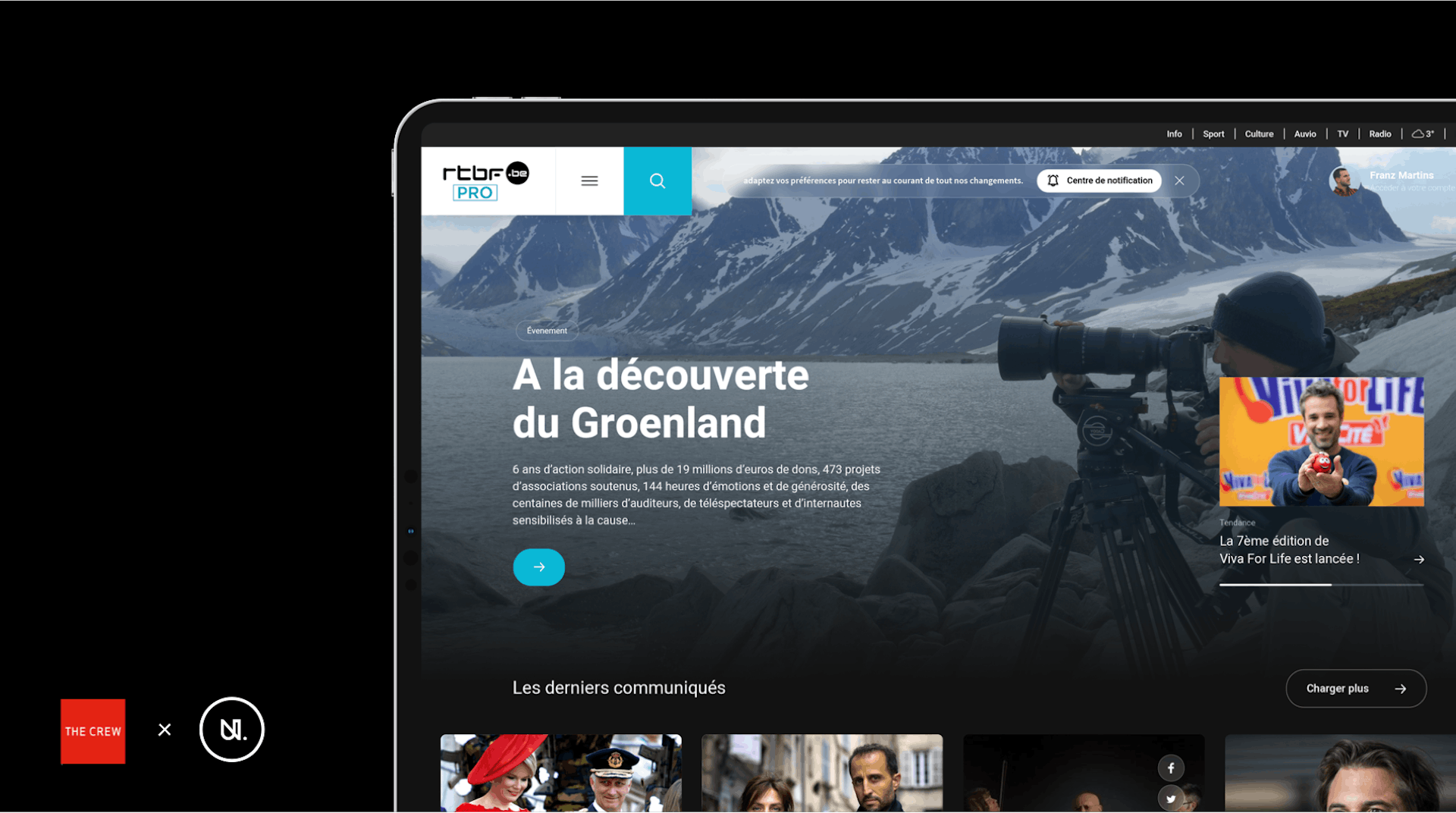 RTBF Pro is the platform that brings together and organises all information on content from RTBF media aimed at professionals. On it, journalists can find resources including the latest press releases, programming schedules, press packs, videos and biographies, together with all group contacts. With such a large mass of content, the greatest challenge was streamlining access to all of this information, but our approach has enabled the creation of a revamped interface complete with a style guide reflecting the current zeitgeist.
Intuitive and clear information courtesy of mobile and audiovisual codes combined with cutting-edge ergonomic and graphic practices.
A large part of our work first consisted of untangling a knot of pages and sub-pages of content that had become extremely daunting, and then rearranging it all as an intuitive, scalable and easy-to-administer information platform.
We therefore approached the problem by following separate twin guiding threads: technical optimisations and structural optimisations.
On the technical side, we put in place multiple synchronisation streams for different content types in order to facilitate the platform's administration; an outsourced search engine permitting multi-index searching with an extremely high performance level; advanced content administration functionality complete with image editing, integrated correctors, etc.
In structural terms, all of the content has now been separated into distinct but inter-connected types, thus enabling all available information on a searched topic to be obtained systematically, in a clear and well-structured manner.
Consideration of users from a wide range of sectors
The different paths taken by specific user profiles were the cornerstone of our reflective process. As much as possible, we have optimised their respective experiences in order to present them with information in the simplest and most efficient way. 
To facilitate this, the site as a whole acts as a search-and-filter engine, allowing a user to customise their experience in line with the content of interest to them. They can also specify the various notifications that they wish to receive via the notification centre.
The success of this collaborative effort between RTBF, our partner The Crew Communication and our own team has enabled the facilitation of the day-to-day experience of journalists and of all users of the RTBF Pro websit
Tell us if you enjoyed this project
787 Likes